By: David Brim
February 14, 2009
This is a guest post written by my wife, then girlfriend Lindsay Ament (@Lindsay273) in 2009. Yep, I put a ring on it!
Fast forward to 2015, she has since taken her plunge into entrepreneurship and is living her dream job while creating a positive impact in people's lives.
—
Tips for Entrepreneur Valentines
Since it is Valentines Day I spent some time reflecting on my wonderful relationship of three and a half years with my boyfriend David. However, being the girlfriend of an entrepreneur is challenging but I wouldn't trade it for anything in the world. So for those of you in the same boat as me, hang in there it will be well worth it! Here are some tips that I found helpful: 🙂
Block Out Calls, Emails & Notifications:
You must be able to block out the alerts coming from the cell phone. It will drive you nuts with all of the e-mails, phone calls/text messages and Twitter updates.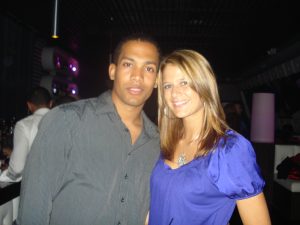 Don't Expect Lots of Room on the Bookshelf:
Only expect a tiny little corner of the bookshelf. Most likely the book shelf will be completely stacked with books like "Future Millionaires", "Rich Dad Poor Dad" and "Founders at Work".
Tell him dinner will be ready in advance:
Let him know that dinner is ready about 10-15 mins before it actually is. Therefore, he can finish his e-mail, conversation on Twitter or phone call in a timely manner before his food gets cold. I can't tell you how many meals I've had to microwave.
Be Supportive through ups & downs:
Always be supportive. Being the girlfriend or wife of an entrepreneur requires you to be their support through the many ups and downs of the roller coaster ride.
You may have to move across the country because he needs to go to the state/city that will be best for his venture.
Be prepared for him to NETWORK everywhere you go!
Be prepared for him to be in front of or at least near his computer 75% of the day
TV shows like BIG IDEA will be filling up your DVR
Be okay to go to bed alone:
Get used to going to bed alone. Especially if you work early and want to get at least 8 hrs of sleep. Most likely he will finally shut off the computer and crawl into bed around 2 or 3 am.
Most importantly, understand that you are with an extremely motivated, self disciplined and inspired person, be proud of them. It takes special people to be entrepreneurs.
—
Not bad for her first post huh? Thanks for being the best & most understanding girlfriend ever! Happy Valentines day babe!
– David
Do you have any helpful tips that you would add to the list? If so drop them in the comments below.
If you liked this post you'll also enjoy a must read for any entrepreneur and their valentine or Lindsay's post on entrepreneur wives. Yep I put a ring on it!