BenSpark's Big Box of Awesome
Have you heard?  My friend BenSpark, super photographer and blogger extraordinaire is giving away a Big Box of Awesome to one lucky reader.  He has asked me to reveal one item that is in that box.  The item is Earl Nightingale's Lead the Field.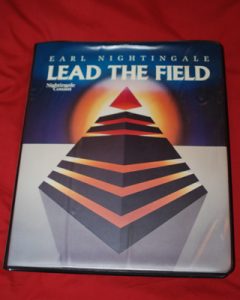 Lead the Field has often been referred to as the "Program of Presidents" because so many top executives have incorporated Earl's guidance and wisdom into their management philosophies.  It's supposed to provide excercises to double your mental compacity and has created more millionaires and launched more careers than any other audio program.
Though I don't have a tape deck any more and strictly listen to mp3's, cds, dvds, pandora, or in rare cases the radio, this tape looks like it's very motivating and insightful.  A perfect fit for BenSpark's Big Box of Awesome!
Visit BenSpark's blog to learn more about the contest and your chance to win.