British Airlines helps your business Take off- Small Business Contest
A recent study done by The Harvard Business Review and British Airlines identified that face to face meetings have the potential to make or break your business. (More Information here)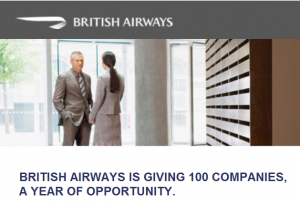 I can verify this statement through experience. About two years ago i co-founded a collaboration software called GroupTable. What I've found through my interactions with GroupTable and other collaborative software applications is that they are best utilized to keep a group cohesive and connected when apart….not as a replacement for physical meetings.
Here's just a few ways you could take advantage of travel services like those offered by British Airlines to grow your business:
If your considering a new supplier or distributor…why not fly out and check out their facilities? Seeing their establishment and meeting their team can help you make a more informed decision. This kind of thing could save you thousands of dollars or help you rest easy knowing that your making the correct decision.
Trying to close a big client? Show your commitment by flying out to meet him. Much of sales in any industry is developing a relationship built on trust, communication and rapport. Of course you have to have a good product or service, but developing a great relationship will only result in the deal getting closed faster, future sales and lots of referrals.
Spending time face to face with a potential partner can really help you get a sense of who they are. After handling business go have a drink with them and get to know them more personally. Would you want to be in business with someone you don't know or don't get a good vibe with?….I know I don't
More productive meetings…if meetings are structured properly and those attending are prepared in person meetings have the potential to be much more productive than virtual meetings. Many times quick meetings can be done effectively through collaborative tools like GroupTable, but for extensive meetings that are more involved having a large whiteboard to diagram and plan things out is very helpful. Though many collaborative tools have whiteboards you don't get the same effect or end result.
Now we all know that we're in a economic recession and most businesses are cutting back on nearly all expenses including travel. Once you give it a try I'm sure you'll see that face to face meetings often pay for themselves.
Still not convinced….How can you find the budget to invest in seeing this for your self?
Well I the great news is that British Airlines has a contest where they are offering a business grant to 100 companies. Each grant consists of a years worth of business class travel anywhere British Airways flies! But….that's not all!
I can't help that I sound like an infomercial it's cool what they are doing 🙂
See for yourself…
Applying for the grant is easy all you need to do is answer a few questions about your business objectives in 2010 and how this grant could help.
I strongly encourage all aspiring entrepreneurs and small business owners to enter the contest by visiting: Business Opportunity Grant Contest