By: David Brim
March 6, 2011
February 17th I spoke at the University of Central Florida for their "Entrepreneurial Speaker Series" in front of an audience of 50-60 ambitious business students.  The topic was on marketing strategies for entrepreneurs….I decided to take a slightly different direction to help students from falling into a very common trap that can severely injure or even kill a professional career or start up's chance of success.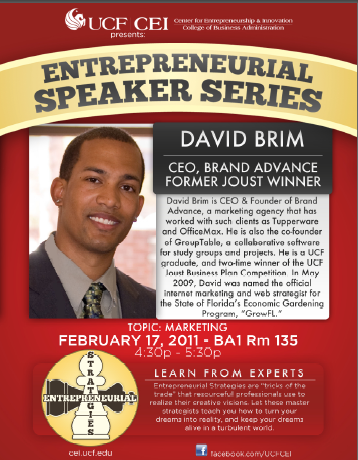 The information I shared with the students I spoke with is relevant for many of my readers and others out there.  With that being said I thought I'd share it here as well.
First off a small back story to put everything in context…
Over the last six months or so I've given probably five different speeches/presentations, primarily to start-ups and second stage companies.  This actually included a talk at the Florida Technology Partnership event in Ft. Myers two days prior to my talk at UCF.  As I was in my hotel room in Ft Myers, after my speech to a group of CEOs and marketing executives, I had a thought….I've given essentially the same presentation the last five times or so that I've talked focused on marketing strategy, SEO, Social Media and branding.  Though this presentation was good I realized this information and delivery is perfect for those who already have companies and are trying to grow them, but will it add the same value to motivated college students.  Many of these college students aspire to be an entrepreneur, but don't have a venture in mind let alone a product or service to market now.
What should I do…Should I give the same presentation or craft a new one.  My talk was scheduled for 1 hour and I altruistically always want to make sure my audience gets the most from my experiences and insight.
Unsure of how to approach it, especially with a  day and a half to go and lots of work to do at Brand Advance the next day…I decided to sleep on it and plan my attack on my drive back to Orlando from Ft. Myers (about 3-4 hours).
I started to go through a simple marketing exercise that I take my clients through at Brand Advance and thought about who I was trying to reach and influence….what are their problems, motivations, experiences, etc.  What can I offer to impact them the most and add the highest value.
In the case of students, learning new marketing tactics to grow brand awareness of a business isn't as important and essential as learning how to market themselves…after all you are the only product you will have for the rest of your life.  If you can perfect marketing and building your personal brand through the process you will learn and understand how to market other brands as well.   Building brand you will continue to pay dividends and attract great opportunities into your life.
Personal branding is more important today than ever before.  Unemployment is extremely high, more people are graduating and more people are getting laid off from their jobs.
What does this mean?
It means that you have more competition for both obtaining a job, and growing your entrepreneurial ventures. What causes you to stand out and land that good job, find investment funding, gain experienced mentors, or align yourself with those who will be energized to work on your start up?
It's your personal brand- made up of your credibility, past achievements, experiences, the way you carry yourself, who you associate with, and the knowledge you have in your respective field.
Here's how I foresee many falling into the trap…
A student graduates excited to get a job in their field
Realize that unemployment is extremely high and get a job in an un-related field to pay the bills until they can find a better job, or launch their start-up.
They end up working in that unrelated job for years, not building experiences and credibility in their respective field and not keeping educated on new trends and industry knowledge.
When the market turns around in a few years an employer is going to hire either a fresh college grad that they can mold, or hire someone who was laid off in the field with industry specific experience.
The college student working in an unrelated field to pay the bills will be stuck in a weird spot…they won't have enough industry specific knowledge to get a relevant job or launch a viable start-up that solves a market need.
They then are at a time to move on in their life and get married and have a kid at some point making it even harder to close the gap as others who get on the inside track in an industry so to speak.
So the question becomes….How do you solve this and avoid the trap?
Here's my thoughts…
Get Educated…I'm not talking about a school education, though in some fields like medical and education this is essential.  I'm talking about keeping up with industry trends and learning how others in your field are staying on top of their game.  School is great at teaching you how to learn or the basic fundamentals in a given area.  Truth be told many of the trends that can really help you can't be taught in school because the teachers are too busy teaching older text book lessons to keep up with them.  Even if they did teach you something innovative or forward thinking they are also teaching everyone else.  You need to learn more than other students in your classes….remember you are competing with students graduating at schools all across the country as well as those experienced industry professionals who have lost their jobs.
Stand on the Shoulders of Giants / Get Connected…It's essential to begin developing relationships with influencers in your respective field.  These influencers can connect you to other influencers and if you've built your personal brand, have credibility and deliver good results this can be a continual never ending process.  You can meet potential business partners, employers, investors and much more.  Also- those who are more experienced in an industry also will be able to see trends that you may not that can assist you in developing new ventures.  Building your network of mentors is also another very wise thing to do.  They will have a personal interest in seeing you succeed and will be able to connect you to others in their network to assist with your endeavors.
Flex your expertise / Build your brand awareness:  Once you've found innovative trends and can begin constructing your own thoughts on various industry topics begin flexing your expertise by starting a blog utilizing wordpress.org or blogger.com.  I also recommend identifying top bloggers in your field and build a relationship with them by commenting on their blog or talking with them on twitter…If possible see if you can become a guest writer for their blog, which in many cases will have thousands of readers.  I also would suggest finding online groups and physical networking groups (ex: Linkedin, Google/Yahoo Groups & Meetup) to join as well as answering industry related questions in Q&A sites like yahoo answers.  Revealing your expertise through blogging and online networking will work wonders…I have gotten clients from my blog, job offers, new venture opportunities, media coverage and much more.
Leverage your successes: Often times people will achieve something that can differentiate them from their competitors, but will not put it out there.  It's not bragging, it's establishing credibility and showing your value.  Create an achievements page, it's essentially an interactive resume.  It's much more powerful than a regular resume because it can go more in depth, show pictures and even link off to other pages where you elaborate.
Control your brand online or someone else will:  You ideally should want to own the page when someone types your name into Google with content that you want them to see.  Employers will search for you, potential business partners, customers, investors and many more.  This is a huge part of building your brand online.  You want it to be easy for others to find you and when they do you want their findings to represent how you want your brand to be perceived.Purchase your own domain name if you can get it, or some sort of variation.  This can be done at godaddy.com.  Get a wordpress blog up, which should take about 10 mins or so and start blogging!  Also be sure to watch what you post on Facebook as well as what others post.  Know your brand and what you are trying to convey and don't do anything contradictory to that because it may end up online.  Everyone has smart phones with cameras and video recorders these days…Your slip could be the next viral sensation and really damage your brand.
Launch a start up:  Once you've taken time to build your personal brand you should have connections and an understanding of trends occurring in the market place.  In my mind at this point it's not a bad thing to start planning and getting your start up concept in motion.   Even if you fall flat on your face you'll learn.  Don't get discouraged entrepreneurship can have a lot of ups and downs, but more potential risk…more potential reward.  Note:  I would never recommend running up your credit cards and sinking all your money into a startup.  This kind of financial strain is never really a good idea unless you have some strong proof of concept.  Best case scenario….Your start up will be a success and you'll create a job for yourself or better yet an asset that will make you millions.  At a minimum you can equip yourself with something to differentiate yourself from others in a job interview.  Working on a pet project and showing potential and traction is in my eyes much more impressive than a coffee grabbing internship, unrelated job, or high gpa.  It shows that you are a self starter, are resourceful, disciplined and can add the same value to another organization as well.By the way colleges are a great place to launch a business for a large variety of reasons.
Anyway I just looked at the clock and it's 3:48 am…time flies when your in the zone.  Another thought on that note…be prepared to work long hours at times.  Launching a start up and building a personal brand, especially when working another job takes a lot of hours.  Don't let your health suffer, but be prepared to put the time in.  It will eventually pay off.
Remember:  If it was easy everyone would be doing it!
I hope this post helped.  If you please share it with others in your network via Facebook, Twitter, Digg, delicious or Stumble Upon.
Good luck on your journey to success and watch out for the trap!
Let me know what you thought about the post in the comments below.