Business Plan Competition- Sitting on the other side of the Table
Over the last two years I've won the Joust Business plan competition for two different ventures. In 2007 my business partner Scott Wall and I presented our niche real estate publication for lease purchase properties and took first place winning $5,000. Then in 2008 I won again presenting GroupTable with another business partner Carl Henderson that time winning $12,000. I was pleasantly surprised when this year they asked me to return as a judge in the finals which took place this past Thursday.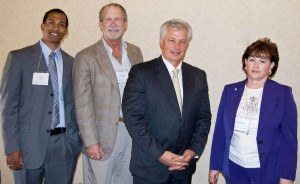 This year's winner was Helping Hands Healthcare, a service-based firm committed to providing superior consulting and installation of daily living aids to families with in-home healthcare needs.
Other finalists included: Mercury Mobile Software, a firm developing a home screen replacement application for smart phones; Orlando Search Engine Marketing, a search engine optimization (SEO) service provider; and Ski Florida, an indoor snow ski, snowboard and kids' snow play facility.
It was truly a great experience for me being that I got to sit on the other side of the table with judges much older and more experienced than me.
Just to run through some of the other judges:
Rick Walsh
Mr. Walsh is President of the KnobHill Group, an investment and strategic counseling company. Prior to establishing the KnobHill Group, he served as Senior Vice President Corporate Affairs of Darden Restaurants Inc. (DRI) and was a founding member of the leadership team that took Darden public in 1995.

Mr. Walsh has been recognized as Orlando Business Journal's "Businessman of the Year"; one of "Florida's 100 Most influential" by Florida Trend Magazine; "25 Most Powerful People in Central Florida" by the Orlando Sentinel; and "50 Most Powerful People in Orlando" by Orlando Magazine.
Thomas Bland
G. Thomas Bland, Jr., serves as Chairman of the Board,CEO and president of AquaFiber Technologies Corporation.In 2004, Mr. Bland was inducted into the UCF College of Business Administration Hall of Fame. He currently is a member of the UCF College of Business Administration's Dean's Executive Council, and serves as a board member for the Florida Hospital Diabetes Foundation. He also established a home healthcare business, TenderCare Professional Assisted Living Services, Inc., for which he concurrently serves as Chairman of the Board.
Charlotte Williams
Charlotte Williams founded SummerHill Homes, a sucessful construction company, and then became a leading local real estate professional.  Charlotte is now a top real estate agent and owner of ERA Williams Real Estate Group.
David Pape
Serial entrepreneur and investor with four successful start-ups and over 30 years of experience.  Mr. Pape has developed a keen eye for lucrative market niches and an innovative ability to develop opportunities.
The competition was sponsored by Steven Felkowitz,  CEO of Atico International.  His company, Atico International is a full service sourcing and product development company that provides retailers, wholesalers and distributors with the insight and worldwide relationships to build a successful import program. I heard they generate over $600M a year in revenue…I guess he could afford to sponsor the prize money and event over the last few years.
Getting to know these extremely successful business professionals and investors on a more personal level was a great experience.  I was the youngest judge by far and was judging students I went to school with less than a year ago, as well as students currently enrolled in the MBA program.  Being a judge gave me a taste of where I want to be eventually (sooner than later), which is an angel investor sitting on the other side of the table listening to entrepreneurs pitch, investing in companies I like and working with them to help them grow.
This was truly a great experience.