Last week I was going through an old notebook and came across a poem that I wrote seven years ago. A poem? Yes, I know it may sound cheesy, but it was a very therapeutic way for me to express what I was thinking and feeling at the time.
When I read the poem it was like being in a time machine.  I could feel and remember the thoughts I was having.  The need to embrace uncertainty and take a leap of faith.  Thoughts of everything I was leaving and risking…mixed with what I've always heard – "More risk…more reward".  A then ex-girlfriend, now wife, who begged me not to go and didn't understand why we broke up when things were going so well.  A scholarship I was leaving and stepping away from my first passion, basketball. Parents that were insecure about me pursuing business who desired me to get a safe-job with the contacts they knew in the world of education and much more.
I thought it was very ironic that I found the poem when I did being that the Fall semester at the University of Central Florida starts this upcoming Monday.  This poem was written nearly seven years ago to the date.
After sharing with a few friends they encouraged me to share it with others…I hope you enjoy it!
Little did I know….
The great mentors, friends and wonderful contacts that I would meet
The lessons I would learn on this journey
All the business ventures and ideas that would fail or not be viable enough to pursue further
All the business endeavors that would turn out to be successful
All the late nights and early mornings that can come from being an entrepreneur
All the fun that I would have and continue to have being an entrepreneur
The doors that would open by maintaining a positive mindset
How one success (or failure) ended up being a stepping stone to something greater
The experience I would gain
How impactful and valuable my experience at the University of Central Florida would be
That I  would win the UCF Business plan competition two times and $17,000
That I would have the opportunity to pitch to investors in the back of a limo going around the Indianapolis 500 racetrack at a national business plan competition
That I would work for myself before graduating college and later have multiple successful business ventures
That I would publish a book based on my experience consulting with over 500 different million dollar companies
That I  would build a dream team that I feel so blessed to work with everyday
That I would later marry the girlfriend I was leaving back in Pittsburgh to pursue entrepreneurship in Orlando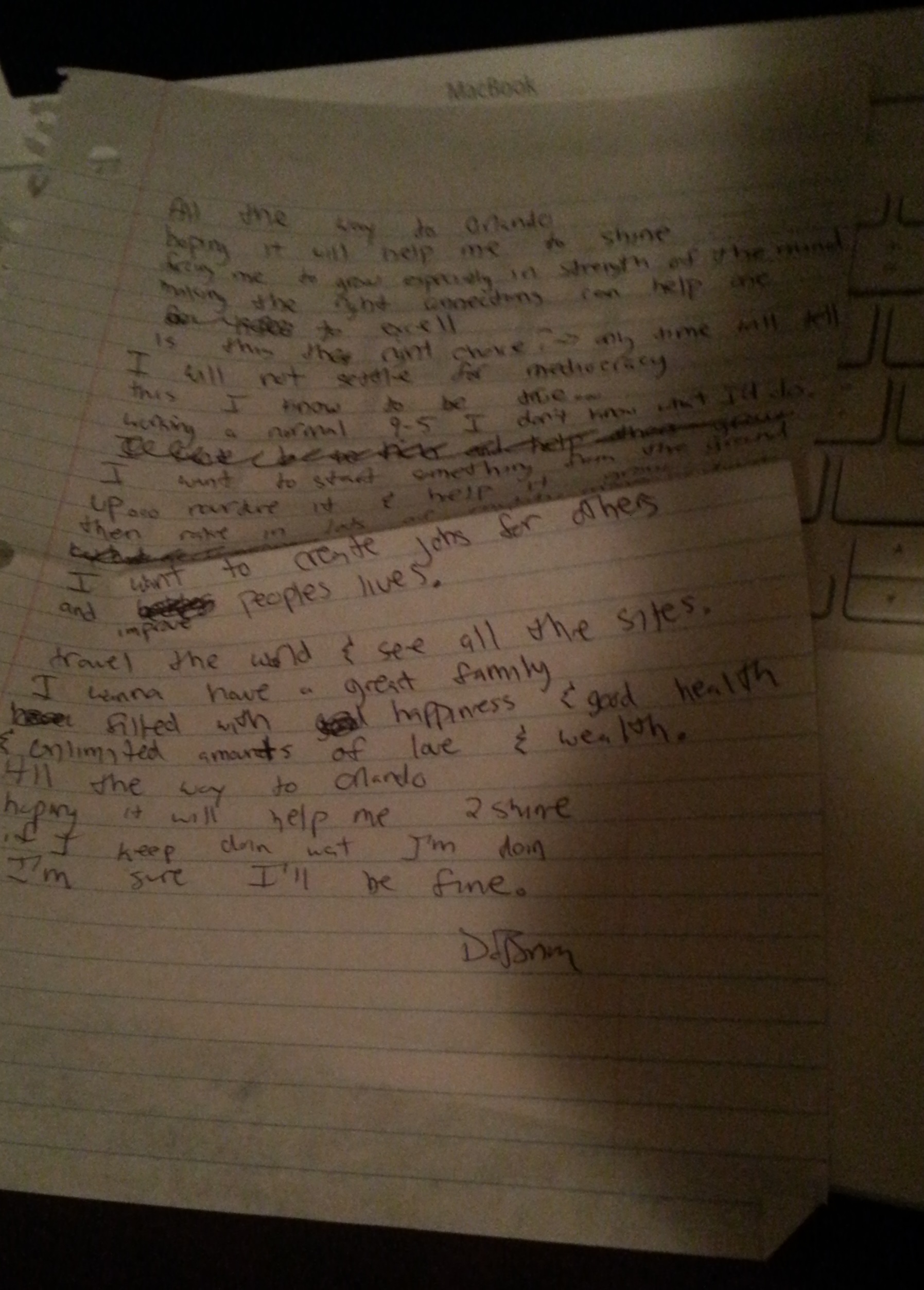 I'd love to hear your feedback.  Can you relate to what I was going through at the time of this poem?  How do you deal with the uncertainties that come with being or the desire to be an entrepreneur?
If you enjoyed this please consider sharing it with others through Twitter, Facebook, LinkedIn or StumbleUpon.
Thanks,
David