By: David Brim
May 25, 2010
Guest post from my fiance @lindsay273
—-
I recently discovered a guilty pleasure of mine is the show "Basketball Wives". I started thinking that there is something to be said for Entrepreneur's wives, future wives and girlfriends. Entrepreneurs are very unique and special individuals. They are self starters, they are motivated, intelligent and they do not let anything get in their way. The women that stand beside them must be supportive, inspirational, intelligent and understanding. I feel there is something truly to be said about a man who can start something from nothing, watch it grow and then provide their own livelihood. It is so easy to go out and get a job working for someone else to collect a paycheck, the hard road is to pave that road yourself and make your own footprints.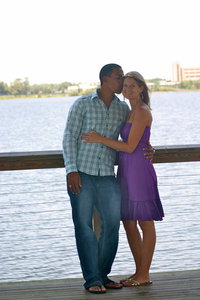 I am 25 years old and I have been with my Fiance' David for over 5 years. We recently got engaged and are getting married next April! I love David with all my heart and there is nothing I wouldn't do for him but being by his side through his ups and downs has been a challenge. One day David decided to move to Orlando to attend and graduate from UCF and also to place himself in a better city for entrepreneurship. This was a major decision for his life and it turned out to be such a positive move for him. He won two business plan competitions, made incredible connections, gained a lot of respect and got footing for himself in an unknown city. For me, this move was devastating. I had to stay behind in Pittsburgh to finish college while my man moved to Florida. At the time I couldn't understand how he could just leave me. But as I stated above, a true entrepreneur doesn't let anything or anyone get in the way of their dreams. We did the whole long distance thing and then it came time for me to make a decision. Do I stay in PA with my family, friends, my life etc.. or do I move to Florida to be with my man? Of course I moved to be with Dave. This was extremely hard for me because I never pictured myself living in a different state than my family and friends but I knew Dave wasn't coming back to Pittsburgh anytime soon and I believed in our relationship. I did what had to be done, packed up and moved. I am thankful that Dave didn't give up on me because it took me a full year to stop getting extremely home sick and I was a handful.
As time evolved and I became adjusted to the move I really got to see first hand the beauty of an entrepreneurs work. I cant even count the number of ideas, projects and visions that Dave has shared with me. You always hear about women who are looking for a meal ticket in this world or more commonly known as "gold diggers". If you are with your man and can support them when they are selling cds in the hood or working at a department store and then continue to support them when they are calling you from their private plane while you are on the yacht, that is love. Being with an entrepreneur can be just as stressful and more worth than an NBA wife, rapper wife or whatever. Our men work long hours, they travel a lot, they may not have much time to help you with certain things (wedding planning) and Im not even going to acknowledge infidelity issues that you always hear about involving men with money because that has nothing to do with your occupation, that has to do with your relationship and respect. If a women is not supportive of their entrepreneur man, the relationship is never going to work. We also have to be extremely understanding and most importantly just always there for them. Their careers are always going to be up and down, hopefully more ups than downs of course but no matter what we are to always be there. In this life you could be worth 3.2 million one day and the next -3.8 million.
I think that it is so important for our men to know that no matter what, we are here for you. Whether you're poor or rich, its me and you always. I don't come from a family of entrepreneurs. My father is an extremely intelligent engineer, my mother is in real estate and I work as a Physical therapist assistant. This is a whole new life with totally new challenges but if you have the man that you want to spend your life with in the driver seat, let him take you for the ride. "Nobody said it would be easy, they said it would be worth it".
—
Well done Linds!
If you liked this check out her last post on being an entrepreneur's valentine
Show her some love!