5 Ways Facebook Questions can be an Answer for your Business
Facebook just announced that they are rolling out a new Questions and Answer feature.  The product feature is currently being tested and was only rolled out to a small beta group as of now.   This feature will allow questions to be asked and then answered by the entire Facebook community. Additional details on the feature's functionality can be found on Mashable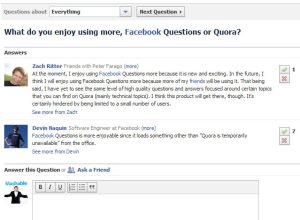 This feature was not meant to be an advertising platform according to Facebook, but this doesn't mean that you can't utilize it to grow and advance your business.  The question is how?
Here's 5 Rock Solid Ways that your business can take advantage of the new Facebook Questions feature:
Thought Leadership

By providing helpful answers to  questions asked by others you can reveal your expertise.  Once others are aware of you and respect you they are more likely to desire to do business with you.

Working through Problems with Industry Peers

Asking and answering industry specific questions can help you gain more knowledge that can be implemented to improve your business.  There is a popular saying that a rising tide floats all boats…Though you want to win in the market place and out do your competitor it is often effective to collaborate and help one another to achieve common goals, or over come mutual problems.

Uncovering your Customer's problems (Content Strategies)

Being aware of the questions that your customers asks is a very effective way of understanding the issues and problems that they face.  This new found intelligence can be utilized for market research purposes to assist in developing new products, refining your service offering, or even developing content strategies to help answer these questions in the form of whitepapers, videos or webinars.

Connect and Engage with New Potential Customers

If one of your customers, or potential customers  is asking a certain question chances are many other members of  your target audience will be interested in the answers as well.  These consumers will seek out these answers and some will comment or participate in the conversation.  This basically creates a list of prospects for you enabling you to friend them, start building a relationship and raise exposure of your brand.

Increased Search Exposure

Unless you were in a box for the last five years you would know how popular Facebook is.  Google knows that they are popular as well.  In fact they are one of the few websites out there with a Page rank of 10.  Just to give you a bench mark- YouTube has a PR of 9, Fox News has a PR of 8, MTV has a PR 7.  This basically means that Google views Facebook as a high authority site.  With this high authority they have very strong SEO power and have a large amount of content indexed.  If you are answering questions that consumers in your market are asking there is high likelyhood that other consumers searching for information will find it and be exposed to you.
What do you think about Facebook's new question feature?
How else do you feel question and answers can be utilized to grow your business online?