Facebook valued more than CBS?!?
Mashable just published an article stating that facebook is now valued at $6.5 billion dollars.  That's more than CBS, Discovery Communications, and Macy's.  Mashable's article was in response to a report released by the New York times which articulated that fb employees were allowed to unload their stocks at $14.77 a share giving them a $6.5 billion dollar valuation.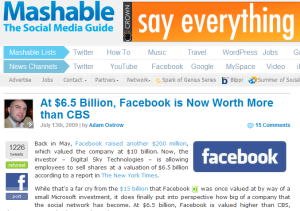 It's very true that Information is power and the amount of psychographic data and usage trends facebook has at their finger tips is scary (and I'm not the only one that thinks so: Do you have a FB video).
However as far as profitability and being a viable business I think a valuation of $6.5 billion is absurd. They have raised $716+ million in funding / multiple rounds and in my opinion have too high of costs (700 employees) and not enough revenue coming in for such a valuation. http://tinyurl.com/2cg44
I have a few friends that work at FB and am connected by a 1-2 degrees to some higher up sales managers/executives and last I heard they were not happy at all.  Even though it was a while back my thought is that Microsoft's $240M investment into Facebook for 1.6% giving them a $15 Billion dollar valuation still is a large reason why they are valued so high.  It's no doubt that a company like Microsoft or Google can better monetize facebook then facebook themselves can, but how and to what extent remains to be seen.
If you had the money would you buy fb for even $1B?
I wouldn't.
just my $.02s