By: David Brim
August 25, 2011
With Hurricane Irene heading towards the coast of Florida I've had several companies ask me how they can better focus their keyword research and search engine strategies to take advantage of this. I thought I would share a tool that can be very valuable in this situation and many others.
Google Insights for search is a tool freely available that can be very useful to a marketer is used properly. Google insights is is similar to Google Trends, a tool that shows the increase in frequency a keyword is searched, but Google Insights provides much more robust information that can be used for market intelligence and research.
Here's a quick overview of how Google Insights for Search works…
Once you've arrived at the tool type in a keyword you would like to research, for this example I used "Hurricane Irene".

You also have the ability to filter your search by type of search, location, time frame, or category.
Once you've done your search you'll be able to…
See the Increase in search frequency over time
You can play with the time frames for your specific purpose and as you do so the graphical output will change.

View Top searches
You can see a list of the top searched keywords related to your initial search. This can be helpful to generate keyword ideas to get in front of a particular customer.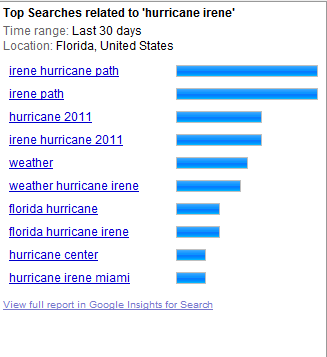 Uncover Rising or Break Out Search terms
Similar to the top keywords, but this shows those keywords that have the biggest increase in searches lately. It could be that these keywords will become top keywords soon, so this data can be very valuable as well.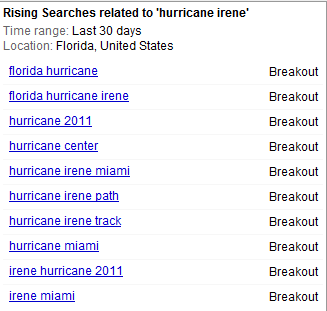 Regional Search Data
This map functionality reminds me of the one in Google Analytics, and provides a map displaying the areas with the greatest number of searches. The initial search query, if left unfiltered will show countries. You then have the ability to drill down into that country and view the states and cities that have the highest frequency of searches. Though the example I used is for hurricane irene, one that could be a very profitable set of keywords for generator, travel, hurricane window, hotel and other types of companies this tool can produce data that would be immensely valuable for nearly any type of business. Whether you are a local service based business, or a large brand planning where to invest your advertising spend on a local level this feature can really help.

Though there are numerous tools that help with keyword research Google Insights for Search is one of the best to help identify and take advantage of trending or topical searches. In many cases there may be a very popular event or trend that causes a huge surge in search engine traffic, but because this is out of the normal search pattern it may not show up in other keyword tools. Though Google Trends shows the top or break out searches on a high level, once you've focused in on one Google Insights is a fabulous tool to really knock it out of the park.
I hope that you found this post helpful.
If you've had experiences with Google Trends, Google Insights, or other keyword tools that help identify trends I'd love to hear your thoughts and experiences. Drop a comment
All the best,
David