How Will Twitter Monetize
There has been a lot of talk about how Twitter will monetize their service.  I am on twitter (@davidbrim), but am not as active as some of my colleagues in the industry (Not everyone can have a 99.9% twitter grade like @tedmurphy).  As of now I have a Twitter Grade of 80%, feel free to test out the twitter grader tool and get your score.  Either way I still wanted to touch o

n the "how will twitter monetize" topic and encourage others to do the same.
I feel there are a number of ways that twitter can monetize that can be extremely profitable.
Highly contextual advertising below tweets

Imagine sending a tweet saying your going to Red Lobster, your followers would be able to click through to Red Lobster's site where a landing page could offer you a 15% off coupon. This kind of advertising could actually be appreciated being that it is highly relevant and adds value.

These ads would have to be performance based.  Either CPL, CPA or CPC.  They wouldn't do well as a CPM model because it would be too difficult to quantify the people who actually saw the ad.  I for one know there are a lot of tweets of people I follow that I never see.  No advertiser in their right mind would want to pay for ads on a CPM model unless it was an extremely inexpensive deal.

Twitter could also charge people a certain amount to upgrade per month/or year to not receive ads within tweets. This would be a good idea, because regardless of how relevant some will feel the ads are, there are still going to be some people that feel the ads are spammy and would be willing to pay the premium to get rid of them.

Charge users a small annual or monthly subscription fee

This is something interesting to think about. Ask yourself would you pay $1 a month, $5 a year or another nominal amount to use twitter? There's going to be a lot of people that wouldn't pay for something that they're used to getting for free. However on the other hand twitter has so many thought leaders and professionals that utilize it that many people would find the nominal subscription fee well worth the ability to build relationships, network and share meaningful content.

They could also impliment a freemium model.  The base model of twitter would be free and they could offer some sort of upgraded service at a premium.
The revenue potential from both models is really a function of their user base.  So how many users does twitter have?  According to Compete twitter has nearly 3.5M unique visitors per month.  I don't think that's an accurate estimate of people that actually use Twitter, being that many people use applications like Twhirl, Tweetdeck or applications for their mobile devices.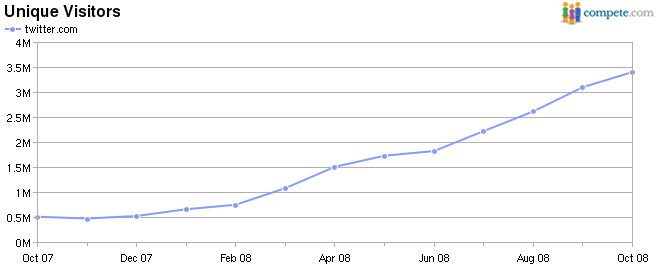 From what I gather nobody really has a strong hold on how many users twitter has, but twitter and they're not talking.
TechCrunch estimated back in March that twitter had 1M+ users, 200k active users and over 3M tweets per day.
There has also been people such as Daren Rowse of Problogger that estimated there are tens of millions of people using twitter across the globe.
Lets do some hypotheticals…
CPC Model: If twitter has 1M users and a total of 3M tweets a day, all with some form of contextual advertising…With an average CTR (Click through rate) of 2% and an average CPC (Cost per Click) of $.50 their daily revenue would be: $30,000 per day.
Here's the math just in case you were wondering:
3,000,000 tweets x .02 CTR= 60,000 clicks
60,000 clicks x $.50 (CPC)= $30,000 per day
$30,000 x 365= $10,950,000 per year
Affiliate Model: It's hard to say the CPA or CPL an advertiser would pay out on twitter because so many different types of advertisers would be relevant.  I was going to take a shot and try to do a projection, but decided not to.  There are advertisers that are paying out $1.50 for a registration and advertisers paying out lucrative commissions for travel packages or other products or services.  If I tried to project it wouldn't be accuarate at all…
But what the hell…Using the same 3M tweets per day stat and 2% CTR if there was  a 10% conversion of those that click through and the CPA was $10.  Twitter would have a daily revenue of: $60,000 per day.
3M tweets x 2% CTR= 60,000 clicks
60,000 clicks x .10 <–Conversion x $10= $60,000 per day
$60,000 per day x 365 days= $21.9M per year
Hybrid Model: Most likely my guess is that they would do a hybrid model…part CPC and part CPA.  So for the sake of argument we'll take 1/2 of my calculation for CPC and 1/2 for my CPA calculation.
$16,425,000 per year
Keep in mind this is probably way out of the ball park, but atleast I gave it a shot.
According to Tech Crunch Twitter raised a total of $15.1M:
Do you think the investors would be happy with the numbers I projected? My thought is the revenue I projected is very attainable for Twitter and would add value, however I feel the real cash out for Twitter's investors and founders is acquisition.
I project that a large Tech Giant will want to acquire Twitter and try to monetize it in the ways I mentioned or use it as a piece of a larger puzzle they are trying to put together within the next 3 years.
What do you think?