Land More Customers presentation
This past Tuesday I gave a webinar to a group of CEOs, marketing directors and economic development professionals. The webinar was hosted by the Florida Economic Gardening Institute. Here is a short summary that was used to promote the webinar:
So many people all around the world have great ideas, products and services. And

 yet some businesses do well, and some fail. What separates the businesses that starve from the businesses that feast?
For the answer, David Brim turns to another way people have been setting their feast table for hundreds of years: fishing. Landing a fish, just like landing a customer, requires strategy and know-how if you're going to come home successful. During this webinar, David Brim explains his top recommendations on how to land the catch of the day through online marketing, SEO and social media.
Presented by: David Brim
Tuesday, July 10, 2012
9:00 a.m. – 10:00 a.m.
The webinar went very well and the feedback was positive.
I've added the slides from the webinar below…
The idea of comparing marketing to fishing was one that I've had for several years. In 2010 I wrote a guest blog post on Copyblogger, one of the top 5 internet marketing blogs, and it was very well received (over 50 comments, 350+ twitter shares and 100 Facebook shares. After the feedback from the blog post I decided to write a book on the topic and am about 85% complete at the time of this blog post.
I hope you enjoy the presentation slides and illustrations. Keep an eye out for the book…I'll be publishing a blog post announcing it when it's ready.
Here is an image from the presentation that is embedded above.  I encourage you to click through and view the other slides in the presentation as well.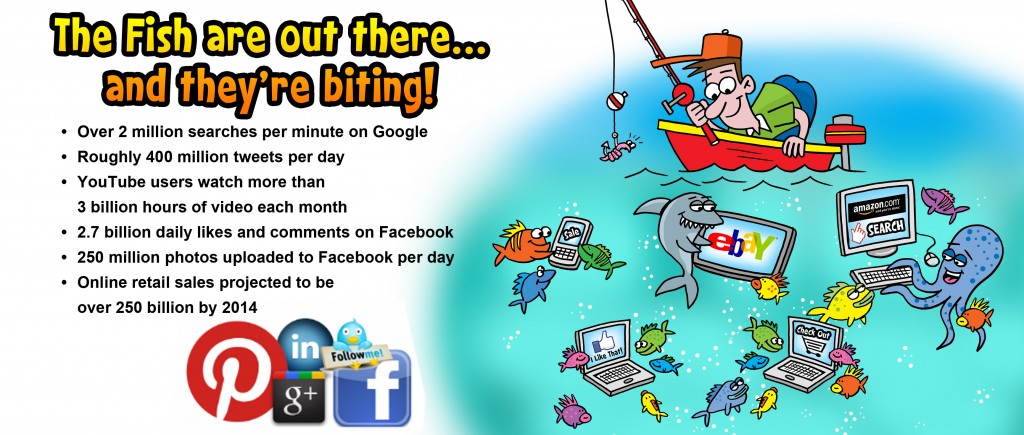 The webinar slides were published originally on the brand advance blog
*video of webinar added below on 7/16
I wish you all the best in your online marketing expedition!
Cheers,
David