Orlando Big Summit 2011 Recap
I had a blast today at the Orlando BIG Summit at Full Sail University. The day was packed with excitement and had innovation & inspiration in the air.  The day started off with a motivating speech from Full Sail president Garry Jones. During his presentation he shared the story of how Full Sail was founded…very entrepreneurial. Jones encountered many of the challenges that many entrepreneurs face including cash flow issues, uncertainty and lack of ROI on advertising spends. One big take away I took from his presentation was his tip for success:
Relentlessly evolve…change with what changes around you and put people first.
Following Garry Jones Kevin Harrington a world-renowned direct response marketer, infomercial genius and investor on the Shark Tank spoke.  After speaking several other judges (Investors) were brought onto the stage and a mock "shark tank" was held where several entrepreneurs pitched their business venture in the hopes of raising capital. Really cool!  This was a flash back to when I pitched in the UCF Business plan competition- the Joust, which I won two years in a row, and later judged twice.
Incidentally, Tom from Bongobox, a company that "Makes Moving Less Sucky" won. Following this Orlando's Mayor Buddy Dyer spoke and discussed Orlando's entrepreneurial economy and plans. Dyer mentioned that Orlando is #1 in the nation for job creation in companies with less than 100 people. Awesome stat!
The co-founder & CTO of Grooveshark Josh Greenberg also spoke discussing the challenges that his team had when growing their business and how they overcame them.
Later in the day after lunch, which was catered by Arthurs- who catered my wedding the awards for the Big Awards were given.
Props to my good friends at GroundFlights who won the Orlando Inc 2011 Business Innovation and Growth award at the Big Summit today. Check out their awesome commercial when you get a chance. Very well done!
Finally Gary Vaynerchuck gave the keynote and as expected… Crushed it! He spoke about his life story…immigrating into the US from the Soviet Union, franchising a lemonade stand business at 5 and picking up his money on his big wheel…lol , selling baseball cards making $2k+ a weekend and then taking his family business, a wine company, from $3M to $70M by leveraging the power of social media. True American dream story…pure hustle and passion!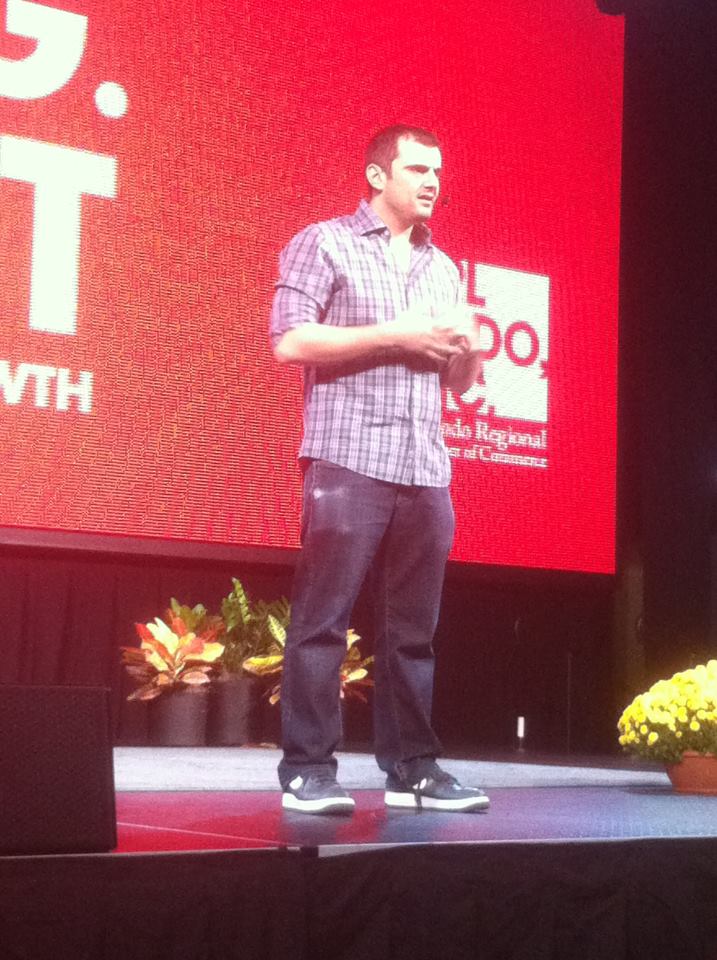 Another big thing Gary talked about was building relationships as opposed to push marketing and the importance of building relationships with individual customers, listening to them and doing random acts of kindness. I know first hand that this is very challenging and time consuming, but can pay dividends if you're willing to make the investment.
Gary discussed traditional media versus engaging through social media and the fact that consumers have more power than ever before because they have instant access to the wisdom of their social circle of influence. This causes the good brands and products to rise to the top and the bad to get exposed. If you're not listening to what's being said about your brand or industry you are really setting yourself up for failure. The truth is participating and alone is not enough…you actually have to be better. In a capitalist society the market will indicate what is the best and the fact that everyone is so connected with enable the good (and the bad) to travel very quickly.
If you haven't checked out Gary Vaynerchuck definitely follow him on twitter:  @garyvee and check out his Facebook page: www.facebook.com/gary .  He also video blogs often at Wine Library.