The Best Way to Get into Social Media- The Double Dutch Analogy
Recently I have had a lot of friends and others contact me asking advice on how they should get into Social Media, blogging, etc.  Building your personal brand through Social Media is extremely valuable and can be a great asset for both your personal and business growth.  So how do you get started?  Enter the Double Dutch Analogy.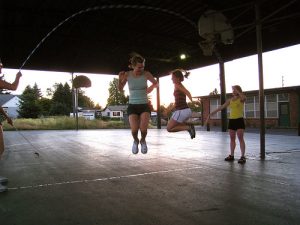 You're probably thinking what the hell does jumping rope have to do with Social Media, and I wouldn't blame you one bit.
But here's my thought process..When children jump rope together, specifically double dutch and another child wants to get involved in the process, that child will:
Watch others jumping and the rhythm / timing of the two ropes
Prepare them self mentally
Jump in
I feel that's the same process you should take to get involved in Social Media.  I recommended to each of the people who contacted me to follow the same process.
Watch others utilizing Social Media and learn from them

See how others utilizing Social Media interact with their readers, listeners or viewers depending on the kind of content they create.  What do you like?  What don't you like?  See how they present their content…Do you feel it's an effective way to connect with their audience?  What can you learn from them?  Some great places to find top Social Media participants in your niche are Technorati Top 100, Twitter Grader Elite, and AdAge Power 150.

Prepare yourself mentally

After you finish step one, to prepare your self mentally I recommend commenting on relevant blogs in your space.  This will help you find your personal voice and get you in the mode of discussing and interacting with others who are interested in similar topics as you.

Jump in

After the previous two steps your ready to jump in.  Set up your blog, podcast, vlog or other content platform.  Keep in mind that just like in jump rope you'll make mistakes.  For me one of the big mistakes I made when I first started blogging, was that for the first three months I only posted about my company GroupTable.  You can see this by checking out my archive from February-April in the footer of my blog.  Not until the post I made on May 11th entitled A Transformation did I decide to switch things up and begin creating content that I feel would be helpful and interesting to others.  So far that decision has worked out very well.
Come to think of it this formula can work on virtually anything from entrepreneurship to sports.  If anyone else has any thoughts on the Jump Rope Analogy feel free to share them.