At Brand Advance we have a steady stream of people that discuss their online ventures with us both from a marketing and web development perspective. A relatively large amount of these projects involve some sort of community or social aspect. When it comes to growing a community based site or social network I always caution those I speak to about not falling into the Empty Party Scenario.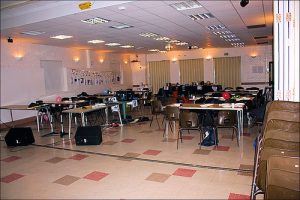 What's the Empty Party Scenario?
Well…One perfect example comes to mind:
When I was in college there was a party that several of my neighbors organized. They had been planning the party for some time and had the perfect set up, lighting and speaker system. However there was one major flaw…when people came rolling in there was hardly anybody there. In College, the "Party Industry" is a competitive landscape and if students walk into a party and see it doesn't have a decent crowd they will turn right back around searching for the next one. When I talked to my neighbors I asked if they had a good turn out they said yes, but it was so fragmented that nobody stayed and the party didn't gain traction. They were not happy with the way their party turned out.
The Empty Party Scenario is magnified 10 fold when you are referring to online ventures.  For example….Let's say you have a concept for a social network tailored for Fishing that allow users to connect with other fisherman in their area. You're very excited and get the best web-design and the standard features of a social site (discussion boards, groups, ability to friend, etc.  You plan on using social media to market your website and get a reasonable amount of sign-ups. All is well right….Nope
The users who have signed up are all in different cities and you built your concept around networking with local fisherman. Consequently you have a very fragmented userbase consisting of users in Long Island, Miami, LA, Portland, etc….Once your users have signed up and realize that there is hardly any people in their specific area or little activity on the site in general and they will leave and not come back.
How can the Empty Party Scenario be solved or prevented?
Utilize the bowling pin strategy for Market Entry
From a marketing perspective you are not able to boil the ocean all at one time.  You have to boil water in a small area first then open it up to a larger body of water and expand gradually.  The same premise is with the bowling pin analogy….You first have to knock down one pin, then two more, then three more, etc.  Facebook used this strategy to exxpand.  They first started at Harvard, then several other schools in the Ivy league, then all Ivy league then Northeast schools, etc.  This not only creates buzz, but enables you to get a very relevant and targeted audience.
Make Your Venture/Party Sticky
What do I mean about making a venture sticky?  Well going back to the party analogy if there was awesome food people would most likely stay.  As more and more people came in the party would seem better because people are staying.  This can be done for your online venture by providing a great tool or good food for thought in the form of content.  When planning GroupTable we constructed it in a way that if a small group of 3-5 went onto GroupTable they really don't care if there are 10 people on the site or 10 million.  The group receives the same benefit regardless.
Encourage Referrals (Incentives & Word of Mouth)
When launching a business if you are able to offer incentives or referral perks to current customers your business can grow immensely.  Affiliate marketing is a great way to generate lots of referrals if it fits your business model.  The other side of this is that you should craft a product or design your party in the way that is worthy of a referral.  This could also include having a track record for throwing successful parties or launching successful ventures.

You should also strive to make it very easy for others (your customers) to share their experiences with others.  Offering SWAG (or promotional items) is a great way to do this…providing a code for them to embed on their blog or website that promotes the event or venture is another.

Develop a Captive Beta Audience (Private Party)
When throwing a party it helps to have a nice crowd already there.  When launching an online social/community site don't do a public launch or loud opening until you have everything in place and have a decent amount of people already there.    Stay in Beta for a period of time and get all the kinks worked out.  Thinking back to the party analogy invite a small amount of people first who can tell if the DJ is not good or if the food isn't up to par.  Once everything is fixed up based on your findings and you have a decent amount of people you can then open it up to a wider audience.  Then when others come it will be a better party, not only because of what you fixed, but because there are others there.


Find other Parties & Convince People to Leave
One way to solve your empty party scenario is to find other parties or social settings and encourage people to leave to attend your party.  The same is true online.  You have to be very careful when you do this because you can position your brand in an unfavorable way as well as create some enemies.  Actively seeking out places where your target market interacts and sparking up communications I feel is the best way to do this.  One caution is that you don't want to spam people.  You don't want to go into a party and start bashing the party loudly the party your at to get people to go to yours.  I recommend talking about the party and seeing if people like it then mentioning there is another alternative that they may want to check out.  Focus on educating people on something new not selling.  This will spark people's curiosity and if everything else is in order will bring you more people to your party/customers.


What are your thoughts about the Empty Party Scenario?  How else can this be prevented?  Do you have any other examples that you've personally experienced.