Tips for Investor Pitches
This past Friday I had the opportunity for the second year in a row to Judge the UCF Joust Business plan competition.  This competition, one that I previously won two different times, is organized by UCF's college of business and numerous successful business leaders and investors are invited to judge various team's business plans, venture viability, and pitch.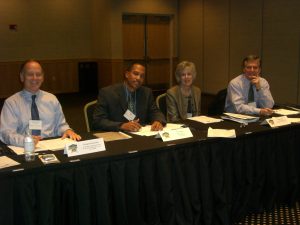 I learned a large amount by participating in the competitions as a contestant when I was in school, however being on the other side of the table teaches you a great deal and is a fantastic learning experience as well.  For the record…I like being on the investor side much better 🙂
Here's 5 quick tips on helping you successfully pitch your business to investors, or judges in a business plan competition.
Strong Attention Grabbing Opener– Try opening your presentation in a way that relates to your audience.  Asking a question or utilizing a "Picture this" or "Think back when" statement is one that I often used in the past….Have you ever (been in this bad situation or felt like this)…well millions of others do every day.  But we have come up with a solution…I'll get to that momentarily.  My name is (X) and I'm with (X company).
Follow a Logical Sequence– The sequence I usually use is a modified version of "Monroe's Motivated Sequence".  Attention Grabber–>Market–>problem–>solution (your product/service)–>Team–>Marketing plan–>Sales–>Financials–>Ask

This keeps your presentation on track and flowing smoothly.
Don't Read Directly from the slides! The first two teams who presented on Friday read directly from the slides.  This is not only very boring, but it also shows that you're not very knowledgeable about your business.  Reading from the slides also prohibits your passion for your venture from showing.  Showing your passion is a very important part of selling your audience on a concept.  The first two teams that presented this past Friday read from their slides and I wanted to slap some sense into them!
Please don't make this same mistake.
Utilize Visuals– This tip goes with my last point and makes your presentation more engaging.  Don't simply put massive amounts of text on your slides.  If your presenting about an actual product, bring your product or a beta in to share it with your audience.  The other option is simply adding graphics to your presentation:

– Add pictures of your market
– Add images that represent the pain they are facing
– Add graphics of your product or service offering
– Add images showing your marketing initiatives
– Show a graph of your financials (revenue, expenses and break even
Make sure your financials are solid! One team that presented in the competition didn't even have financials!  One of the other teams had financials that were very incomplete.  The team spoke a large amount about their marketing and how they would capture 5% of a large market and didn't even allocate a marketing budget!  Don't make this mistake! A business and financial coach like Jerome Myers would recommend having an income statement, balance sheet, cash flow statement and financial assumptions.  If you are very early stage everyone is going to know these are not 100% accurate, however you need to be able to defend these financial statements….hence the reason for your financial assumptions.
Now there are a lot more tips that can be said, but these were the five that really stuck out in my mind after judging the competition Friday.
I wish all of you the best of luck in your various entrepreneurial endeavors.  If I can be of any assistance let me know!
If there are any other tips my readers would like to share feel free to drop a comment.
Cheers,
David