By: David Brim
December 9, 2008
We all know that the economy has taken a turn for the worse. Though this is taking a toll on most people and businesses it presents an opportunity for online marketers. Many companies are slashing their marketing budgets leaving little money to dedicate to traditional forms of advertising such as TV commercials, publications, billboards etc. Where there is a problem there is usually an opportunity…and this opportunity is ripe for savvy online marketing professionals. The key is to educate companies on the value of reaching their customers online through social media, PPC, SEO and more.  This post is my take on this issue….
Top 10 Reasons Why Internet Marketing is the Way to Go
Extremely targetable
You can optimize your website copy, ppc ad or social media effort for any niche taking into account demographics, psychographics, location and more.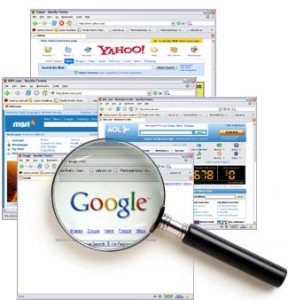 Measurable
Analytic packages can track all of your site, or ads activity. You can see what's wrong fairly easily. You can also monitor conversations throughout the blogosphere or on twitter to see what people are actually saying about your brand.
Flexible
This goes a long with the previous point. By listening and viewing statistics you know what needs to be adjusted and then normally can adjust it on the fly.
Less Expensive
Traditional forms of advertising such as TV commercials, billboards, and advertising in top magazines cost significantly more than a typical internet marketing campaign. Part of the reason is because internet marketing is so flexible. Before something gets too costly it can usually be adjusted.
Around the Clock Marketing
By having a website and optimizing your site for search engines (SEO) your company can be found at all hours of the day by motivated consumers. Consumers already looking for your product or service can find you even while your sleeping.
Establish Credibility through quality content
What good is it for a consumer to find you if your asleep? Well with the help of a creative agency, you can produce quality content in the form of a blog, podcast or video on your site so you can establish your credibility even while you sleep.
Visitors can share & promote your content for you
Through Social Media Optimization (SMO) you can make your content easily sharable through various social networking and social bookmarking sites. This way your site's visitors are sparking word of mouth conversations throughout the web around content you created. This will only drive them ultimately back to your site.  In addition to that you can set up an affiliate program where the promoter gets paid based on his/her performance.  By going an affiliate route your only paying out when you get a lead, sale or other desired action.
Repeat exposure to customers increases likelihood of a purchase

A good strategy is to give away a value-added video or whitepaper if a visitor enters their email address. This allows you to get them into your sales funnel and reach out to them with additional content and offers. Therefore they'll be more likely to buy from you. You cannot do this with traditional forms of advertising.
Cheaper market research
You have the ability to see what your competitor is up to, what your customers think about you and where the industry is going far cheaper than going through a market research company. Granted you may still want to purchase a report, there are tools and channels out there that you can do much more market research on your own and adjust your strategy as needed.
Build relationships with your customers

Through social media you have the ability to step out from behind your corporate image and build genuine relationships with your consumers. By building trust and putting a face to a brand consumers will be more likely to purchase from you. After all people like to do business with their friends, or at least people they know and trust.
I hope this list depicting the benefits of internet marketing helps you to grow your business make the right decision to incorporate internet marketing into your strategy, or "marketing tackle box". What do you think about the list? What would you add as a benefit?