I recently had a great blog re-design from the Unique Blog Design guys and everything was going great with my transition from blogger to wordpress until….I decided to do a quick google search for my name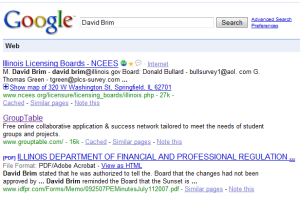 This really suprised me…I've ranked first in google for as long as I can remember.  Not only did I rank first, but I owned every result on the first page except one.  Now some guy from Illionois has taken the top spot…wtf Google?
My blog Filled to the Brim (davidbrim.org) isn't even ranked on the first or second page…It's does appear on the third, however it's a link with my old page structure and when I click the link it says "Page not found"

I did a ping on google for my blog earlier, but don't know what else I should do.  I would appreciate any insight or comments to resolve this issue.