Top Ten Business Lessons I've Learned from Sports
In the last post I wrote I discussed my thoughts on being the best player on a losing team vs. the worst player on a winning team.  In that post I touched on my personal experiences dealing with both scenarios in sports and business.  I had several readers email me and tell me they wanted to know more about my athletic career, what I learned from it and how I apply those lessons to my business career today.  Instead of elaborating on that issue via-email, I thought that particular topic would be a great for my next post…
So here is my Top Ten Business Lessons I've Learned from Sports:
Competition Helps You Grow


During my basketball career  I realized that competition is healthy.  It keeps you on your toes and on your "A Game".  Competition motivates you to work harder and give your all, even when nobody is watching…There's nothing like knowing your improving while your competition is sleeping.  The same is true in business.  Know your competitors and create some healthy competition.  Also your current competitor may be a future collaborator or team-mate.  If not, both of you are at least working to grow your specific industry as a whole.

If You Want to Be Great…Do extra

I strongly believe that in order to get ahead you have to do everything the others do…and more.  You can be extremely talented in sports, or business, but if you want to be looked upon as a leader in your field you have to Do Extra.  This could mean shooting an extra 500 jump shots or more after practice (Which I did religiously) or working late after hours on a presentation or business plan- which I do religiously.

Build a Team of Value Creators

You want people on your team that are better/smarter than you in their respective areas and people that are value creators. A great way to see if someone is a value creator is to look at their past accomplishments or successes. If someone has created value for themselves or the past teams/companies they have been a part of, chances are they can create value for your organization as well.

Stand on the Shoulders of Giants

It's always good to have a role-model or mentor both in sports and in business. This allows you to learn from other's mistakes, so you don't have to make the same ones on your own.  When I played basketball I used to study Michael Jordan's game tapes, and read about or talk to successful pro players.  In business I seek out the top entrepreneurs, or industry vets and enjoy talking with them about their experiences and listening to their advice.  I don't look at successful people through eyes of jealousy, but inspiration, knowing that if they can achieve those levels of success, I can as well.

Timing is everything

Timing is an essential element in sports and business.  In both scenarios the moves you make must be relevant to what is going on around you.  You shouldn't shoot a random shot without knowing the scenario of the game, everything should be in context.  If it's late in the fourth quarter you may want to hold the ball, if there's a need in an Industry not being fulfilled you may want to move extremely fast and get clients in contract to lock out competitors.  You also have to actively keep up on trends and emerging innovations if you want to be successful in a particular industry.  In both scenarios it's all about being aware of what's happening around you then planning your moves accordingly.

Be Passionate About What You Do

When your passionate about something it shows.  If your playing a sport and are just going through the motions everyone can pick up on that.  When your passionate about an issue it's like "Your in the Zone" when your doing it.  Time seems to stand still and you can accomplish a great amount and it seems almost effortless.

Realize there is Always Going to be Haters

When your doing something right, there is always going to be people that are jealous and try to bring you down.  There are a lot of people who just like bringing others down, because they don't have enough passion or desire to channel that energy into improving themselves.  Either way I use the haters as motivation.  I realize if I wasn't doing something right, haters probably wouldn't even notice me.   They would be focusing their efforts on bringing down somebody who was doing something right.

Set Lofty Goals

I believe that people should set high goals for themselves.   Not goals that are completely unattainable, but lofty ones. In sports and business, if you have high expectation for yourself, even if you don't quite reach them, typically you'll still be in a much better position than if you had lower goals.

Just Do it

When trying to accomplish something In business and sports, there are a million excuses that can be made to explain why something can't happen.  First off let me say that you need to take time to develop your skills, or conduct research for your market, but once you have a decent grasp…Jump in and Do it.  Once you get actively involved in something it's easy to find others who can help you get the ball rolling.  You also learn an unbelievable amount by going through tough scenarios first hand.

Sometimes it's wise to re-direct your energy
This was a very hard lesson for me to learn, but I'm very glad I learned it.  I have never been a quitter.  I am a very positive thinker and hard worker, however sometimes it's better to re-direct your energy to an opportunity that is more fruitful for you.
Growing up I always thought I could get a Division one college scholarship then go to the NBA.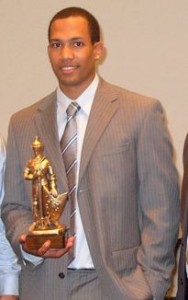 After I graduated high school and things weren't panning out the way I expected, but I didn't give up.  I went to a top prep school in Connecticut and started averaging 10 pts per game on a very good team.  After getting no Division one scholarship offers, I then started playing for a smaller college team (California University of PA).  Though I was doing very well in practice, the coaches still weren't playing me. This was extremely frustrating to me, because I've never been a bench player.
One day it clicked to me…If I don't go to the NBA, what will I have?  If I continue on my current path, I'll graduate with a degree that isn't even accredited and will have no real work experience in my field.  It was at this point I decided to re-direct my energy to something that looked more promising, business.
Today I still stay very mindful of this lesson.  You have to know when to re-direct your energy.  If your in a venture that you love, you can have all the positive thoughts you want, but you have to be a realist.  Ask yourself…What is the risk & potential return of my decision?  Is the potential return worth the risk?  If you have the potential to lose all of your life savings, go into massive debt and break up your marriage…You better make sure the potential return is there.
Feel free to add your thoughts, as well as other business lessons that you have learned from sports.