By: David Brim
November 18, 2008
November was a great month for GroupTable.  With no funding, nobody on our staff working full time and a lot of late nights GroupTable now has over 1200 students using our software, and we're still in beta!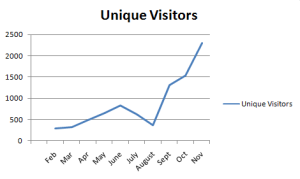 You can also see our unique visitors to the right.  All of our marketing, minus one promotional event at UCF during the summer and a few email campaigns, has been through word of mouth/social media.  On a limited budget it's amazing what having a quality product that solves a need and tech savvy users can do.  You'll notice a small dip during the summer months, but a strong rebound when school started.  By the way this graph includes November and there is still a week and a half left in the month.
This month there were also a lot of great posts written about us on various education and technology blogs Here's some of my favorites:
We really have a perfect product for the time.  College enrollment is rising, especially with the economy the way it is.  On top of that, students are staying school longer for their mba and doctorate degrees. Group projects are often required in classes and it's proven that study groups improve grades, however students are busy and/or lazy and getting all group members together and focused at the same time is challenging. Many students face this problem and neither social networking sites or course management software systems solve this need, however GroupTable does.  Below is a message sent to us via twitter.

Besides our strong user traction and growth, we have a number of companies that want to partner with us that can really add value, an enhanced design ready to be integrated, several campus representatives at different locations across the country and a solid revenue model.  We are in the process of raising capital, which will allow us to really ramp up.  If anyone knows of any investors passionate about education and technology please connect us.  The sooner we obtain resources, the sooner GroupTable's staff will be able to give this venture our full attention, build our team and grow GroupTable to it's full potential…What do you bring to the table?
Contacts? Capital? Comments?