By: David Brim
August 2, 2009
Search Engine Optimization is nothing new, however many people are still baffled with how it works and what it takes to dominate the search engines for a given term.  Ranking well for strategically selected keyword terms in your niche will drive highly motivated potential customers to your web-presence, which will result in more sales, leads and inquires for your business. You can click to find out more about this tech from SEO experts themselves. By working with SEO experts, you can get your website to rank for certain keywords much faster. And if you have an older website, and you're continuously struggling to get the results you're looking for, the rank way agency can help you get over that wall.
I've attended lots of internet industry conferences around the country such as Search Engine Strategies in San Jose, Search Marketing Expo in New York and Affiliate Summit in Las Vegas.  At these conferences I've listened to, interacted and built relationships with top thought leaders in the internet space.  Through my research and interactions I believe this image is one of the best depictions of what it takes to dominate the search engines.  The image was put together by Matt McGee of SmallBusinessSEM.com: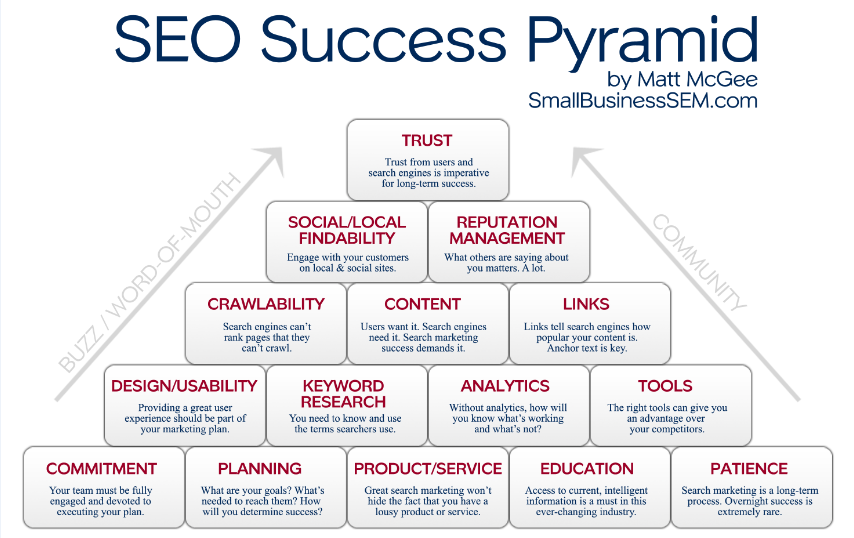 Utilizing the various aspects of the SEO pyramid properly will absolutely bring you success on the search engines.  However it takes time, commitment and lots of effort to implement.  Also keep in mind that if internet marketing is not your core competency there can be a large learning curve which can be quite costly.  You can learn from your mistakes, but it is best to hire someone who has experience in the field that can help your business get the results your seeking.  If you're interested in taking advantage of SEO, social media marketing or lead generation services to grow your business leave me a comment or drop me a line at david [at] abco-solutions.com and I'd be happy to chat with you about your online success.