By: David Brim
July 24, 2009
I've always enjoyed reading inspirational or thought provoking books when I have the time.  I'm kind of a geek at heart and love learning about history, ancient philosophers and other wise men throughout the centuries whose names have lived on and words have remained relevant long after their time.  One such person is Sun Tzu, an ancient Chinese philosopher and military strategist.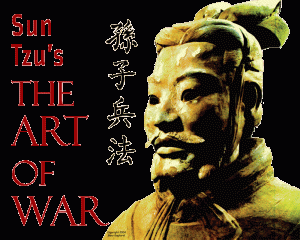 Sun Tzu is most popular for his book The Art of War.  Though this book is filled with military strategies and tactics there are core lessons that can be extremely beneficial in many different situations such as sports, business or even personal relationships.
I was reading the art of war and came across a good quote that I thought was a very good lesson to reflect on.
"If words of command are not clear and distinct, if orders are not thoroughly understood, the general is to blame. But if his orders ARE clear, and the soldiers nevertheless disobey, then it is the fault of their officers."
Having employees and interacting with vendors, partners and clients everyday I can completely appreciate the value of clear, concise and candid communication.  It is very easy to think that someone understands what you are trying to get across just because you understand it.  If you're not clear it leaves someone to play the guessing game and try to perceive what they thought you've meant.  This is how mistakes happen….breaks in communication.  It's always better to over explain giving several examples and very specific verbs and adjectives that articulate the exact message you're trying to get across.  This leaves no room for error in the communication process, only disagreement or insubordination as Sun Tzu said referred to.  I strive to improve my communication skills daily in all of my interactions.
Have you had any experiences recently where you've noticed a break in communication that you or someone else could have prevented by being more clear?
If so please share
Stumble or digg this post if you see the value in the quote and post.
thanks