Your Customers Are Online….Are They Finding You or Your Competition?
Have you ever thought about how many people are online today?  Sure it sounds like common sense….people use the internet, but have you ever really thought about it?
How Many People Are Online?
There are over 307 million people in the United States according to the US Census Bureau.  Of this number about 220 million people in the US use the internet.  The 87 million people that aren't online include infants, small children, Amish people, hicks, some older adults and maybe a few people who have lived in a box for their whole life…The fact is nearly everyone is online. This includes you, your friends, your family and most importantly….your potential customers.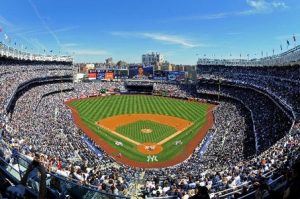 It's sometimes hard to put large numbers into perspective, so I'm going to try.  As I said there are 220 million people in the US that use the internet.  Yankee Stadium holds: 57,545 people at it's capacity.
Two hundred twenty million people would fill up Yankee Stadium almost 4,000 times- That's how many people are online in the US alone!
When you're in a filled stadium like that, in a long line at an amusement park or sitting in traffic jam just think….all of these people are online searching for information just like me.
How Many Searches Occur Daily?
There are roughly 14.3 billion searches every month.  This is according to a research study done by comScore who constantly gathers information from all the major search engines.  That means over 476 million searches occur every day or over 5,500 searches every second. You can find additional info about this by browsing a bit. People are searching for any and everything, including your product, or services as well as the problems your business can solve.  These motivated consumers are going to find someone.  Will it be you or one of your competitors?
How do you Stack up?
Contact Brand Advance today for a free consultation and complimentary SEO report on your current website.