About David Brim
Hello, thanks for stopping by. My name is David Brim and I am a dedicated husband, father, entrepreneur and investor living in Orlando, Florida. Professionally, I have a particular interest and expertise in online lead generation, business model development, SaaS, ecommerce, private funding / lending, and commercial real estate. Learn more about my experience, or read my entrepreneurial journey. Most recently, I am a founding partner and Chief Strategy Officer of Orlando Opportunity Fund . We are committed to producing solid investor returns while advancing our local community through investments in commercial real estate and early stage companies. In 2017 I also founded Orlando Entrepreneurs, a network, resource center and podcast created to connect, cultivate and celebrate our local entrepreneurs. Our mission is to advance our entrepreneurs, their companies and our local economy.
I currently live in Orlando with my beautiful wife Lindsay and our two children (read our startup lessons you can learn from parenthood). I grew up in Pittsburgh, Pa and was very active in sports. My biggest sport by far was basketball. I was known for being the first in the gym and the last one to leave. I ended up starting varsity three out of the four years I was in high school, each year we won our section. My senior year I ended up being "Fab 5" in my area and went on to play for California University of Pa.
After a year of playing college basketball I came to the conclusion that a large amount of college athletes graduate with no work experience and no real professional skills. The real world often hits them even harder, because athletes are usually looked at as "The big-men on campus", and have had that role usually from their youth and have trouble adapting. I didn't want to be that guy that held on to his sports dreams too long only to miss out on other opportunities that may prove much more fruitful. With that in mind I decided to re-direct my energy  and take the lessons I learned from basketball and apply them to business. I wanted to be in an environment that would nurture my entrepreneurial spirit and decided to move from Pittsburgh, Pa to the land of dreams…Orlando, Fl. (Not having to scrape off snow  and ice in the morning from my car…was a plus too 😉 )
I settled on The University of Central Florida to finish my education and start my journey on becoming an entrepreneur. It was definitely a life changing decision for me for a number of reasons:
I knew nobody in Florida (My friends, family and girlfriend were all up north)
I went from a school of 7,000 students to 48,000
I changed majors from education to marketing
I let go of my childhood aspirations to play in the NBA
I had no real support system or stream of income lined up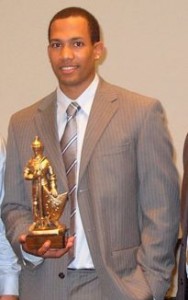 Everyone told me that the move was too risky and that I shouldn't go, but something deep-down inside told me kept drawing me to Orlando.  I also knew that the higher the risk, usually the higher reward. Needless to say that decision was one of the best decisions of my life. I'm thankful to have accomplished some great things in a very short amount of time. To learn more about what I have accomplished in the early stages of my business career view my work experience page. You can also learn more about my community involvement, speaking engagements or consider reading my professional bio. If you have any questions feel free to contact me. You can also get connected with me by catching me on various social media site. Some of the ones I participate regularly on can be found below. Thanks for stopping by, I hope you enjoy my blog!