About David Brim & My Entrepreneurial Journey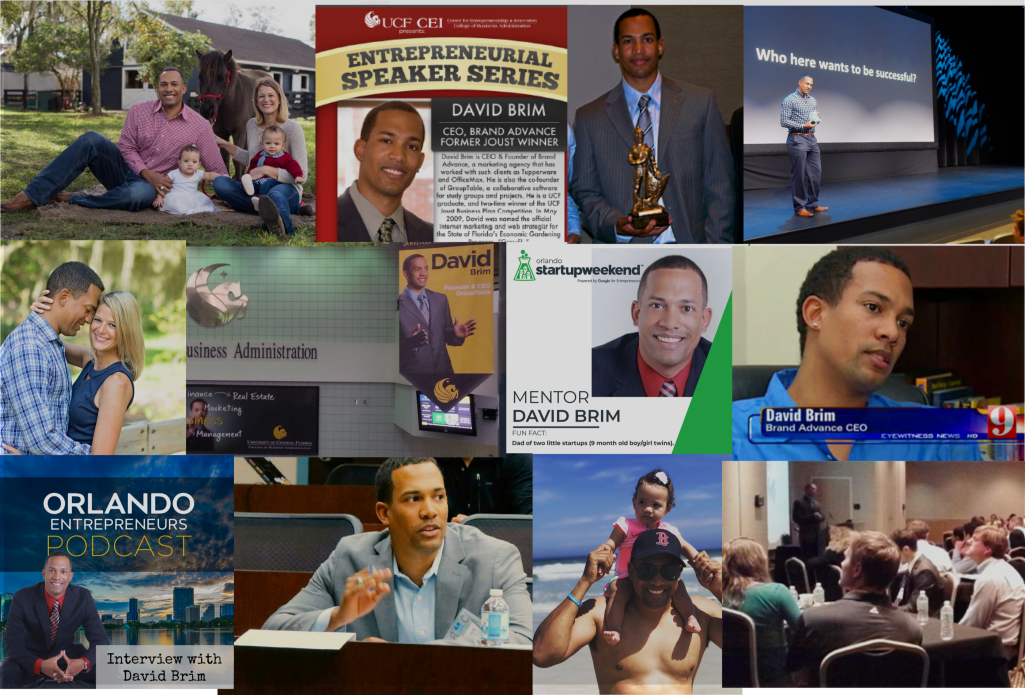 About
Hello, thanks for stopping by. My name is David Brim and I am a marketing strategist and entrepreneur turned investor.
I've founded numerous businesses spanning industries such as software, marketing, e-commerce, finance, and real estate. Throughout my entrepreneurial journey:
I became the only two-time winner of the UCF business plan competition (earning roughly $20k in college to fund my ventures).
Launched multiple software as a service ventures that both reached 10,000+ users
Had experience launching, growing and exiting online ventures (such as a portfolio of niche college apartment directory sites generating passive monthly income).
I've worked with over 1,000 growth companies across the country and helped them advance by leveraging strategic digital marketing.
Authored a book that reached Amazon's Best Seller List (Digital Marketing Category)
Have been featured in a top selling entrepreneur textbook "Successfully Launching New Ventures".
Recognized as a top business blogger in Florida through the Sunshine Blogger Awards.
Guest blogged for many online publications including Copyblogger, a top 5 digital marketing blog.
Was invited and admitted into the Forbes Finance Council, and became a Forbes contributor.
Launched OrlandoEntrepreneurs.org to connect, cultivate and celebrate Central Florida entrepreneurs.
Gained expertise in investment real estate analysis, and management and acquired multiple investments producing higher than average returns. (Learn about how I started)
Founded Stableworth, a company focused on acquiring distressed commercial properties, private lending, non-performing note acquisition and real estate development.
Through Stableworth, partnered with a multifamily development firm with a $1B pipeline. Served as COO & VP of Investor Relations. Managed loan closings over $140 million, acquisition of land exceeding $20 million, $18M+ in dispositions. Oversaw asset management, meetings with elected officials, zoning presentations and community meetings.
Launched Orlando Opportunity Fund, which has has made investments in FinTech, IoT, Medical Devices, Real Estate Tech, and Health Technology.
Actively give back to my community through volunteering, donations as well as various advisory and board roles.
I currently live in Orlando with my beautiful wife Lindsay and our two children (read our startup lessons you can learn from parenthood).
Current Professional Focus
---
Stableworth

I am the founder and Managing Director of Stableworth, a company focused on acquiring non-performing mortgages, distressed commercial properties, real estate development and private lending in Central Florida. Through Stableworth, David helped manage a $1B real estate development pipeline, oversaw $140M in loans, $20M+ in land acquisitions, $18M+ in dispositions, and maintained key investor, community and political relationships.

---
Orlando Opportunity Fund

I am the founding partner and Chief Strategy Officer of Orlando Opportunity Fund. Orlando Opportunity Fund is focused on advancing Central Florida communities through investments in early stage companies and commercial real estate. To date, our fund has made investments in FinTech, IoT, Medical Devices, Real Estate Tech, and Health Technology.
---
My Backstory
I grew up in a family of educators in Pittsburgh, Pa. Growing up my dream was to be a great basketball player. I was known for being the first in the gym and the last to leave. I ended up starting varsity three out of the four years I was in high school, each year we won our section. My senior year I ended up being "Fab 5" in my area and went on to play for California University of Pa.
During this time I majored in education, but began developing a deeper passion for business. While attending Cal U in Pittsburgh I lived with my two best friends that I had since middle school. Eating ramen noodles wasn't enough so we began many entrepreneurial initiatives to bring in extra money.
My best friend JT and I started selling mixtape CDs and did quite well. We would burn the CDs on our laptops and print the labels at our school print shop (free for students). Soon our demand was so high that we didn't have the manufacturing capacity to meet market demand. So we took a $600 loan from my mother to cover 50% of the cost of a 10 disc CD burner that would spit out CDs in several minutes. My friend and I would drive around and sell these CDs on campus and around Pittsburgh. We found a nice niche in urban communities and would connect with influencers in those communities with lots of money and they would call those in their community together to purchase CDs. We would give an extra special deal to these "influencers" because they also ensured we were never harmed in their community. Often times would make $250 each over the course of an hour or two per location. Not a bad ROI for a young college kid! In no time we had my mom paid back.
I then started expanding my entrepreneurial activities and began selling glasses and watches that I would import from over seas in bulk or get from long night drives to New York. During this time I would also buy car audio equipment, rims, T-shirts, and any other deals I found that I was confident I could flip. My entrepreneurial passion grew.
I decided at this point that being an entrepreneur was what I wanted to do. I changed my major to business, redirected my energy from basketball to business and was ready to go all in.
At that time I felt trapped. I lived with my two best friends, had family close by that regularly wanted to see me and was dating my girlfriend (now wife). I decided that I needed to be selfish for the greater good and needed time away to find my way. They say a comfort zone is a beautiful place, but nothing ever grows there.
I wanted to step outside of my comfort zone, free myself from distractions and challenge myself to grow.
I longed for something bigger and knew I needed a change.
I decided to move to Orlando, Fl.
Everyone told me that moving to Orlando was too risky and that I shouldn't go. After all, I knew nobody in Florida and had such a great network in Pittsburgh. My parents were also still very upset with me for "redirecting my energy" from basketball and changing my major from education to business. I remember my dad telling me that nobody makes it in business, except those in large family businesses and that he had a great teaching job waiting for me when I graduated. It isn't what I wanted.
Something deep-down inside kept attracting me to Orlando. Needless to say that decision was one of the best decisions of my life.
(Not having to scrape off snow and ice in the morning from my car…was a plus too 😉 )
I settled on The University of Central Florida to finish my education and start my journey on becoming an entrepreneur. It was definitely a life changing decision for me for a number of reasons:
I knew nobody in Florida (My friends, family and girlfriend were all up north)
I went from a school of 7,000 students to 48,000
I changed majors from education to marketing
I let go of my childhood aspirations to play in the NBA
I had no real support system or stream of income lined up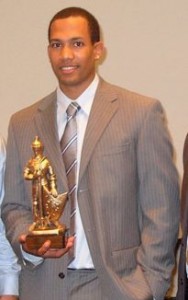 Once I arrived at UCF, I surrounded myself with great coaches and got extremely involved in the Center for Entrepreneurship and Venture Lab. I had tons of ideas and began to learn the process of growing a business and what makes a venture feasible. This sounds bad to say, but I would often cut class to spend more time at the venture lab because that is where I could learn from those that walked the path I wanted to travel.
This was 2007 and the housing market had crashed. While taking a break studying for an accounting test, a fellow student and I came up with a solution. We realized that students were still paying rent, but pricing for housing had crashed. Consequently we wanted to get students into a rent to own situation. They could stop throwing away their rent payments with the option for future ownership and investors could have cashflow – everybody wins. We started a rent to own magazine to advertise lease purchase properties and began selling ads. We developed a plan for an online program as well then pitched in our schools business plan competition and won first place – $5000.
Soon after we merged with a larger Florida real estate publication and were on to thinking about our next venture. We loved to learn and work in groups, but found that there was no effective solution at the time for student groups to collaborate. We came up with a venture called GroupTable, a collaboration software created to help student groups improve communication, planning and organization. Groups could be created and managed anytime anywhere. Think Slack before slack.
At this time my co-founder had graduated and we needed a programmer. I searched throughout the campus and found a programmer that was up for the challenge. He came on board as our third co-founder.
During this time I also landed a part-time job at IZEA, a social media company that connects brands to online influencers and content creators. I wanted to work at a startup to understand how venture backed companies are ran, but never wanted to work full time so I could utilize time to grow my own ventures. My position was Director of Premium Influencer relations. I got to meet and work with many online influencers, especially many of the top digital marketers around the country like Neil Patel, Chris Brogan, Brian Clark and many more. I also worked on digital marketing campaigns for companies like SeaWorld, K-Mart, Armani Exchange, USA Networks and more. Through this experience I immersed myself deeper into internet marketing and learned SEO, Social Media, Blogging, Affiliate Marketing and much more. I knew this would help any venture I was doing now, or in the future.
Using the skills I learned throughout my journey and at IZEA, we got GroupTable off the ground and gained thousands of users. We won our schools business plan competition for the second time and $12,500. This was a big accomplishment! UCF is the largest University in the Country and this was a campus wide business plan competition. To this day I am the only student to ever win it twice.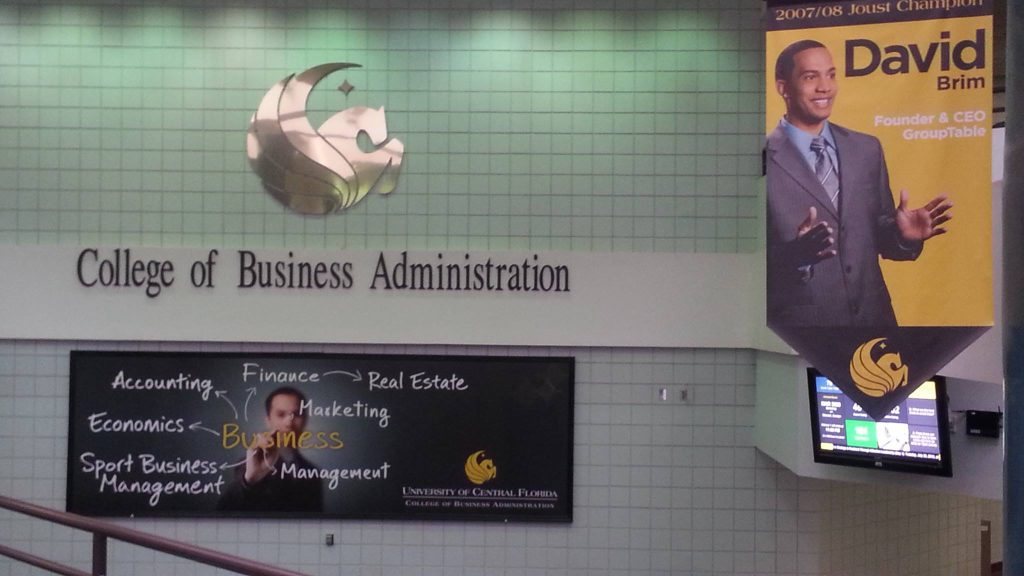 We hired another programmer and invested in more marketing and began gaining more traction, but the venture required more resources than we had to grow. With graduation approaching, unsuccessful fundraising efforts, the need to pay bills becoming a reality and my entrepreneurship bug in full throttle I came up with a plan.
I realized my venture didn't need funding. We needed designers, developers and marketers. The venture also needed more of my attention that working full-time somewhere else wouldn't solve. This being the case I started a marketing agency called Brand Advance. I didn't have money to hire the talent full time, but I knew good quality contractors from my ventures. I decided to gather requirements from potential clients, obtain estimates from my contractors and mark up the price. The plan worked great! My first year in business we did $220k in sales. We landed some exceptional clients including some economic development organizations that funded us to work with second stage businesses ($1M+ in revenue or 10+ employees). To date I've worked with 1,000+ second stage businesses across the country. Since starting Brand Advance the company has grown to over $3M in total sales, but more importantly to me…it has provided the flexibility and income I needed to grow my other entrepreneurial ventures.
---
Since I started my entrepreneurial journey, I have:
Co-founded and served as CEO of a SaaS for online group management called GroupTable. We grew to over 10,000 users then sold various assets off in 2013.
Launched an EdTech software called Bright impact that we grew to $100k in sales (since then has been taken offline to focus on other initiatives), but here is a video overview.
Created a several niche student directory websites that generated $25k-$40k passively per year before I sold the portfolio to a strategic partner in 2017.
Utilized my income earned from various ventures to invest in real estate. I found a passion for investment real estate and the passive income that it generates to balance out the ebbs and flows of entrepreneurship.
Consulted over 1,000 second stage businesses ($1M+ in revenue or 10+ employees).
Wrote a book, Land More Customers through Online Marketing. It landed as a best seller (#13) within the internet marketing (SEO) category on Amazon in 2014. The book was also utilized in entrepreneurial marketing courses at the University of Central Florida.
Had many business ideas, partnerships and companies fail, but teach me important lessons. Each time making me stronger.
Been a partner or investor in other ventures from ecommerce companies to private lending and online lead generation.
Was part of the general partnership that developed a 460 unit multifamily project in Austin, Texas and worked on numerous $100M+ multifamily projects.
---
In 2017 I created Orlando Entrepreneurs (www.OrlandoEntrepreneurs.org), a network, resource center and podcast with the mission to connect, cultivate and celebrate our local entrepreneurs. Our focus in on advancing our entrepreneurs, their companies and our local economy.
In 2018 I scaled back my marketing agency business to focus more full time on funding businesses and real estate projects. I created Founder Funders to source debt capital for numerous funding needs including business expansion, working capital, inventory, bridge loans, real estate acquisition, new construction, and more.

I then founded Orlando Opportunity Fund. We are a private investment firm focused on producing solid investor returns while transforming Central Florida communities through investments in commercial real estate and early stage companies. To date we have made investments in FinTech, HealthTech, Medical Devices, and IoT.
In 2021, I created Stableworth, a real estate development, acquisition and private lending company. Stableworth partnered with MMI Development, a Multifamily Developer based in Orlando, FL and I served as their COO & VP of Investor Relations. In this role, I managed loan closures totaling over $140 million, the acquisition of land assets exceeding $20 million, and dispositions of more than $18 million. I also handled political and community engagement, where I facilitated key meetings with elected officials, and led zoning and community outreach presentations. I also served as an asset manager and directly oversaw a 291-unit multifamily property, ensuring its operational excellence. I also coordinated various professionals, including accountants, attorneys, tax advisors, real estate brokers, and political consultants and a host of internal team members to help keep the organization running smoothly and effectively to accomplish the goals set by our leadership team. I served in this role with MMI Development until 2023 when a partnership buyout was offered.
Currently I am focused on real estate development, acquisitions and private lending through Stableworth. We are most interested in acquiring distressed commercial properties, non-performing commercial notes, and industrial development.
I hope that you enjoyed my entrepreneurial journey. More to come!
Remember, when you take the initiative, surround yourself with good people, and get the ball rolling – good things happen. Doors open and lessons are learned. I hope this story inspires and motivates others to take their entrepreneurial leap. It's worth it!
Experience
I have experience across numerous industries including marketing, Tech / Software, e-commerce, real estate, finance including private lending, and private equity. Learn more about my work experience.
Community Engagement & Impact
Learn more about the causes I'm passionate about, my board experience, volunteer work and mentorship.
Speaking Engagements, Media, & Props
Browse some of my speaking engagements, media coverage and props.
Learn more on Filled to the Brim
To learn more about my professional experience consider reading my professional bio, or view my work experience page. You can also learn more about my community involvement, speaking engagements or consider reading my blog.
If you have any questions feel free to contact me. You can also get connected with me by catching me on various social media site. Some of the ones I participate regularly on can be found below. Thanks for stopping by, I hope you enjoy my blog!